---
More News
---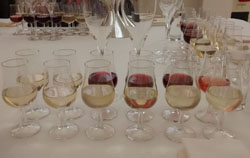 ---
Hatcs are very proud to once again be working with The Caterer on the 2018 Taittinger UK Sommelier of the Year. This is the first time Taittinger have been the main sponsor in what promises to be a very exciting new format of competition. More details can be found if you click here.
Now in it's 39th Year this is the highest level of competition in the UK for UK based sommeliers. Previous winner and Head judge Gerard Basset OBE, MS, MW, MBA. 1992 Winner 2010 The Best Sommelier of the Year. Deputy Head Judge Nicolas Clerc MS, 2007 Winner. With a prestigious Technical Group setting the tasks for each stage of the competition and a judging panel including leading wine experts this years competition will once again uphold the meticulous standards required to find the UK's Best Sommelier for 2018.
Entries close at midnight on the 12th March.
Please let me know if you would like to hear more about it.